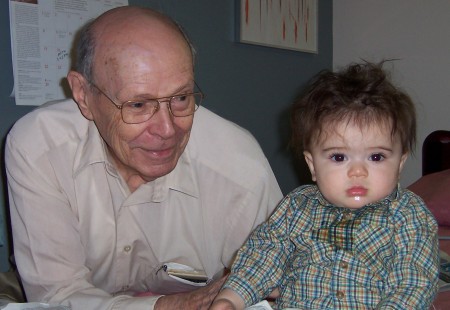 obituary printed April 17-18, 2007
Loving Husband, Father, Grandfather, and Great Grandfather.
C. Noden Arrowsmith, 94, of 3203 West 13th Street, died Sunday, April 15, 2007 at Sarah A. Reed Retirement Center.
Born in Irvington, Maryland December 19, 1912, he was a son of the late Stanley and Florence Dyche Arrowsmith.
He graduated from East High School in 1931, attended Union College, and served in the U.S. Army.
Noden worked at Bliley Electric for 36 years, retiring as a design engineer. He enjoyed dancing, big band, and jazz music. He was actively involved and supported the Boy Scouts of America.
He was a member of Lakewood United Methodist Church.
In addition to his parents, he was preceded in death by four brothers, Arthur, Harold, Robert and DeWitt Arrowsmith; two sisters Marion Williams and Betty Sutto, and a granddaughter Julie Arrowsmith.
Survivors include his wife Sara L. Arrowsmith; three sons, Charles Noden Arrowsmith II, and his wife Ann of Quincy, CA; Robert Louis Arrowsmith and his wife Susan of Jamestown, NY; Roy Edmund Arrowsmith and his wife Kathleen of Cary, NC; seven grandchildren: Lora Magaldi (David), Alan Arrowsmith, Brian Arrowsmith, Dennis Arrowsmith, Adam Arrowsmith, Ryan Whelpley, Jason Whelpley (Carrie); a great grandson Jacob Magaldi; and a sister-in-law Jane Arrowsmith (Harold).
Memorials may be made to:
Vision and Blindness Resource Center, 2402 Cherry Street, Erie PA 16502
Boy Scouts French Creek Council, 1815 W. Robinson Rd., Erie, PA 16509